Step right up, Step right up! The show is about to begin as we explore the world of the circus and those who made and make a magical place to visit. The tradition of the circus has a long incredible history as we learned from last week, but that history lesson is not over today as I will make it point of how history and even film has influenced the circus.
For months month's now we have explored the world of the circus and those performers we call freaks, although the term itself it derogatory and should not be used today, this is what they were referred to. I stand by using the terms of those times, but we must always remember these were human beings that should have been treated better but weren't always. Many of the performers we have profiled lived incredibly sad lives and some lives very exciting lives t a great deal of money for their talents and eccentricities. These performers did not have a lot of options to live a normal life and many times society outcaste them living many no choice but to join a circus or freak show to make a living. Today these people hopefully would be respected and even maybe have a rockstar status for their differences, but society is still a cruel place today.
Previous Profiles and Stories
Joseph Merrick (The Elephant Man)
Stephan Bibrowski (Lionel the Lion-faced Man)
General Tom Thumb and Admiral Dot
Ohio Bigfoot Lady
Grady Stiles (Lobster Boy)
The Pinheads Pip/Flip and Schlitizie-
Myrtle Corbin (The Four Legged Girl)
Koo-Koo the Bird Girl
Bearded Women
Camel Girl
https://josephmeyercreatives.com/2020/08/15/series-feature-2-life-in-the-circus-from-yesterday-to-today-ella-harper-the-camel-girl/
The Siamese Twins –
https://josephmeyercreatives.com/2020/08/23/series-feature-3-life-in-the-circus-from-yesterday-to-today-siamese-twins-bunker-twins-chang-and-eng/
Can You Imagine
Can you imagine if the Elephant man existed today? Or Lobster boy or any of the other performers I have profiled here. Its hard to say if society would accept them or run-in fear over their differences. One type of performer that has seemed to have a normal life is "Little People", where today many little people are incredible performers in film and television like one of my favorite Warwick Davis who has been in multitude of films like Willow and Harry Potter.
Other types of performers do exist today like those incredible tall giants of people who you will typically see in films and even as wrestling due to their incredible size. Today's profile gets back in the swing of those unknown performers of yesterday.
I typically like to profile those I have seen in film especially in one of my favorite's films "The Greatest Showman" that had real representation of people of that time.
Today I want to talk about another one of the performers that once worked with Barnum and Bailey circus Edouard Beaurpre who was a Candiadian circus and freak show giant, wrestler, strongman and star of Barnum and Baily's circus. He was one of the tallest men in record history with a reported height of 8 ft , 3 inches.
Life
Born in the Southern Sasskatchewan town of Willow Bunch on January 9, 1881. He was the first of 20 children born to Gaspard Beaupre and Florestine Pinche, a Metis. When he started school at age seven, he was of average height, but by nine years old he was already 6 Ft fall. By age 12 he was over 6 ft tall at 6 Ft 6 inches. He stopped going to school at this time, but not because he was simple. He spoke French, English, Metchif, Cree and Sioux. He was an excellent horseman, but by age 17 he had reached a height of 7 Ft , 3 Inches and he abandoned the trade.
His father worked as a freighter for the trader Jean-Louis Legare, who was a cattle and horse rancher and also Beaupres godfather. For several years he accompanied his father on his trips to Moose Jaw, Regina and Montana.
Abandoning life on the ranch, he began touring. He displayed strength by bending iron bars and lifting horses on his shoulders. Touring from Winnipeg to Montreal, staying for a time in California. By the age of 21 years old, he now stood at 7 ft, 11 inches and weighed 366 pounds.
Death
Signing a contract on July 1, 1904, with Barnum and Baily circus to appear at the St. Louis Worlds fair in St. Louis Missouri. He died at age 23 of pulmonary hemorrhage, a complication of tuberculosis at the fairground hospital on July 3, 1904. At the time of his death he stood at 8 ft , 2 inches.
Life after Death
At the circus request, the undertaker embalmed his body, however the circus refused to pay, so they decided to preserve the body which they then put on display in St. Louis. Through an unknown connection, the body made it to the Museum of Eden in Montreal and was put on display. The exposition grew great crowds that the authorities had to shut it down. The body was then passed on to the Montreal Circus, but they quickly went bankrupt and so dumped the body in a warehouse. The body sat there until 1907, until two kids came across the body as they were playing in the warehouse The Universite de Montreal claimed the body and after doing some research and an autopsy mummified his body and placed it on display case in the university.
Burial
The family only discovered Beaupres body was in Montreal in 1967 and so in 1975 began the process to try to return the body to Willow Bunch for proper burial. The university refused and claimed rights over the body saying they wanted to continue to perform research and did not want the body displayed anywhere else. In 1989 the family tried once again, this time brining the media with them as well to put pressure on the university. This time the effort worked and so the university decided they could cremate the remains to prevent anyone from grave robbing the body. It took two big urns to contain his ashes. Finally in 1990, the body was brought back to Willow Bunch.
Gone too soon
Living a short but incredible existence as one of the tallest people in history, whose to say how much longer he would have lived due to his size, but it would have been nice if he had a real chance to live life and experience a chance at a normal life. What I find interesting is how the body was preserved for so long and forgotten about for years in a warehouse. It has been known that many of these performers who had unique characteristics about themselves such as their body were preserved for display which is not uncommon in those times by very uncommon now other then for funerals. It in 19th century bodies would often be displayed postmortem so they could be photographed. Even todays are many countries that preserve their dead for viewing and tourist attractions. Personally, I believe we should let the dead die in peace six feet under or by cremation but not everyone feels that way.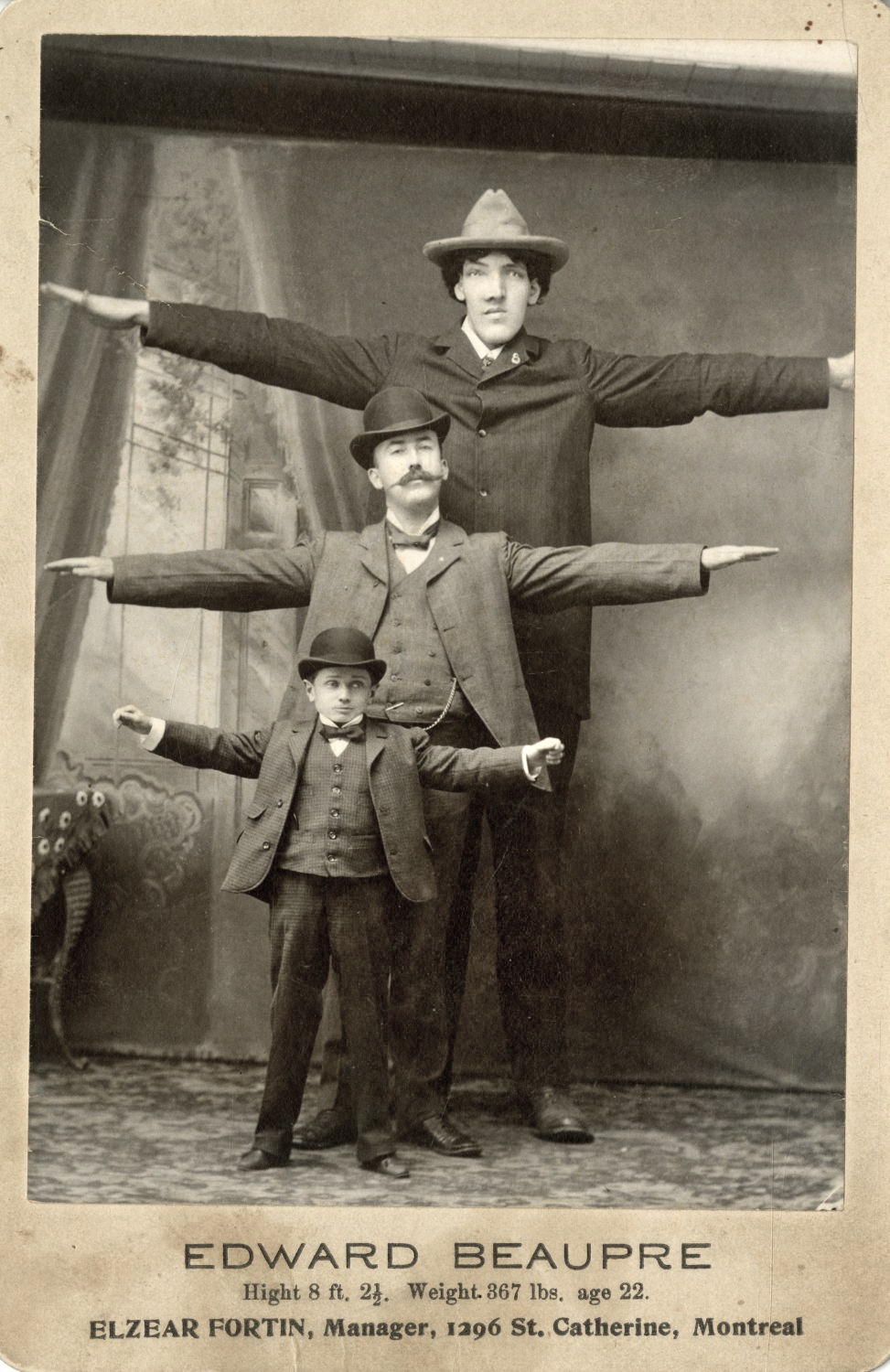 Today we explore another one of those individual who appeared incredibly unique not only in size and strength but intelligence for the many languages he spoke, but taken too soon.